chocokuland.info is talking about lucisphere !
Par Ced, mercredi 21 février 2007 à 23:39 :: globalwarming awareness2007 :: #43 :: rss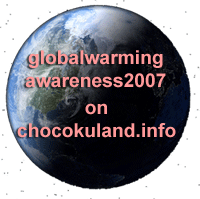 And now, what's the
GCB
?

Chocoku Land
is a french forum based on another seo contest called "
Chocoku
. The goal of the
Chocoku
competition is to rank the highest for the exact search term «
Chocoku
» in Google, MSN, Voila and Yahoo organic rankings. This contest began in the end of 2004, and nobody never win !